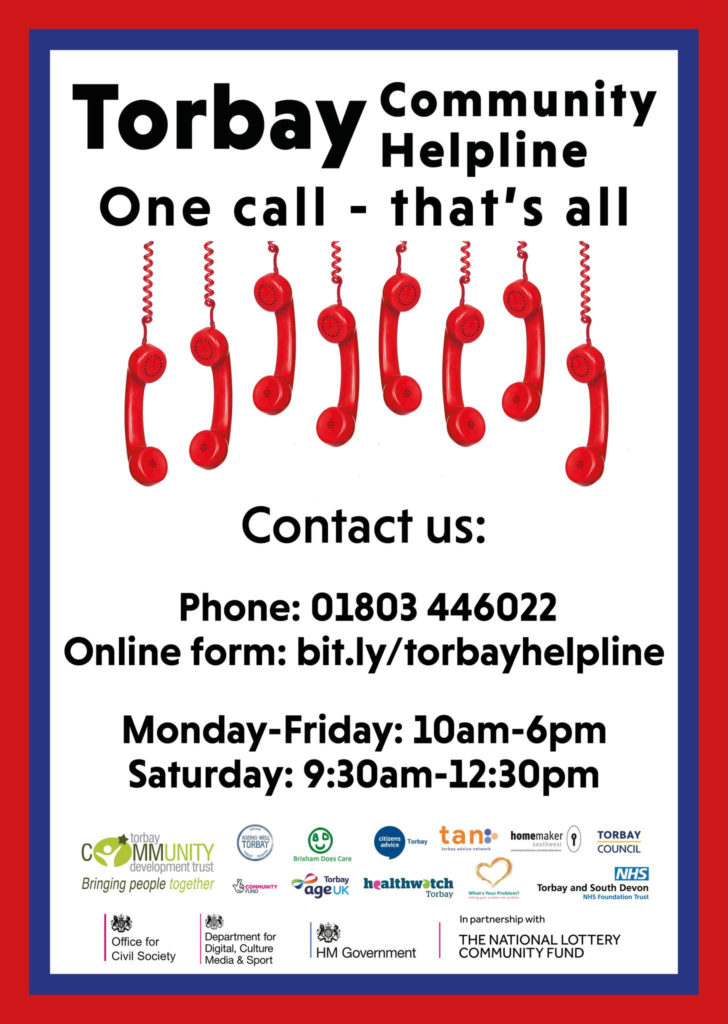 Our staff and volunteers have been supporting a local community helpline, started initially for those affected by the Coronavirus Pandemic and open to the people of Torbay to request help, volunteer their assistance or refer anyone they believe/know needs help.
It became a huge operation, taking more than 16,000 calls throughout 2020 and touching base with nearly 5,000 people.
The Torbay Community Helpline is operated by staff, volunteers, associates and partners of various different Torbay organisations, including Healthwatch Torbay and Engaging Communities South West, Torbay Community Development Trust, Citizens Advice Torbay, Torbay Council, Torbay and South Devon NHS Foundation Trust, Age UK Torbay, Brixham Does Care, Torbay Advice Network, Imagine This, Yes Brixham, Libraries Unlimited, What's Your Problem CIC, Disability Support Torbay, Homemaker South West and others.
The Torbay Food Alliance, which has brought together food banks across the Bay, has already provided more than 250,000 meals since the crisis began and is expecting a significant increase in demand.
The phone line – 01803 446022, is open 10am-6pm Monday-Friday, and 9:30am-12:30pm on Saturdays.
The helpline recently appealed for any help with the vaccination efforts at the Riviera International Conference Centre in Torquay, in particular – Marshalls for marshalling people in and out of the RICC, and support for the likes of nervous patients.
We'd like to thank everyone who has applied to be a Vaccination Volunteer, as part of the mass vaccination efforts taking place at the Riviera Centre.
To date more than 200 volunteers have signed up to help at the Riviera Centre and if you'd still like to try and apply, please call Torbay Community Helpline on 01803 446022, or fill in our online form at bit.ly/torbayhelpline